Fun Things to do on Jelly Bean Day
Jelly Bean Day celebrates the entire rainbow of jelly bean flavors. Have fun on this day with a few fun activities including: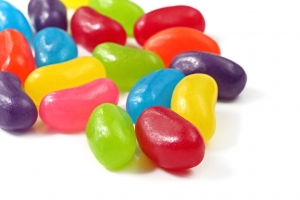 Guess the Number
We've all seen this before, but fill a jar with jelly beans and see how close your child can come to how many are in the jar. It's a fun and educational experience to guess the number and then count them all out. Maybe count them as a full total and then separate the colors for even more guessing.

Guess the Flavor
Jelly Beans have come a long way since we were kids! Now there are such a variety of flavors it's sometimes hard to know by the color what the flavor may be. Get one of the guides or fun boxes of creative flavors from Jelly Belly and have fun identifying the flavors!

Jelly Bean Painting
A fun way to entertain little ones is to have them sort the jelly beans by colors and soak them in water. What happens is a sweet smelling brightly colored water that can be used like watercolor paints.

Jelly Bean Structures
Get building with some toothpicks and jelly beans you can soon create some fun brightly colored engineering structures.
Whatever you do don't forget to save some for eating!