Gift Ideas for a Nanny to say "Thank You"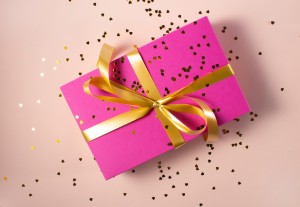 She has such a special relationship with your children, they love her like she's part of the family, and you don't know what you'd do without her!  But with the press of your everyday life, including tasks specific to paying your nanny each week and those pesky nanny taxes, it's easy to take your nanny for granted.  Although National Nanny Recognition Week will be taking place this September 22- 28, it's always a good idea to let your caregiver know how much she means to you and your family now and throughout the entire year. 
If you're looking for gift ideas to show your token of appreciation, here are seven that any nanny would love:
 A facial, massage, manicure or pedicure

.  Send her to the spa! She takes care of the kids all day long.  She'll love being pampered, appreciate the quiet time, and feel amazing afterwards. 

 A cozy blanket

. After a day spent running around with the kids, she'll look forward to relaxing when she gets home. Give your nanny something soft and plush she can cozy up under. 

 A gift card to her favorite store.

Do you know where she likes to shop? If not, just ask! She'll love having the extra money to get a little something from her wish list. 

 A necklace

.  One with special meaning will have her thinking of your family and bring out a smile every time she puts it on. 

 An insulated travel mug

.  Perfect for when she's on the go with the kids, or so she doesn't have to microwave her coffee every time she's about to sit down and take a sip, but then gets a request from a child. 

 A personalized frame.

Do you have a sweet photo of your nanny with the kids? It would be so nice to put it in a pretty frame. You think of her as family, and she thinks about you the same way. This would be a great way for her to display some of her favorite people in her own home.  

 Restaurant gift card.

She's probably made quite a few meals for your little ones. Why not give your nanny a break from cooking when she gets home and send her out to her favorite place to eat. 
She'll be thankful for the thought you put into a gift, but to make it even more memorable, have the kids add something. You could have them fill out a nanny printable questionnaire. She'll get a kick out the answers they come up with!  She may also enjoy a handwritten note or drawing from them.
No matter what gift ideas you choose, she'll be happy to know she is such a valuable and appreciated part of your family.